We're so glad you're here!
---
Experience Sunday morning on Sunday night!Service at 6PM Sundays
---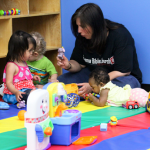 Children's Ministry (nursery–5th grade)

No matter what age your child is, we have services that are designed just for them. They will have fun, they will learn something, and they will be safe! The goal of our children's ministry, Rhema Kids, is to "know God, love God, and take God to your world." We help kids know and love God.
Children's services will be provided during services!
---
It's a blessing to attend this Church. They focus on the Word of God, walking by faith, loving God and loving each other. God is a good God!"
— Tim
---
A place with power word, awesome worship and a wonderful family to receive you!"
— Estevao
---
A great experience. Worship was awesome & receiving the word was awesome. I just loved it. The people were very friendly."
— Era
About Us
Welcome to Rhema Bible Church! Thank you for visiting our site and taking the time to find out what we're all about.
We are a growing, multicultural church that welcomes everyone who comes through our doors—just as they are. Our message is simple: You can make it! You can live the abundant life that Jesus has already provided. It's a life overflowing with joy, provision, and health. In other words, life|unlimited. That means no matter your situation in life, no matter where you've been or what you've experienced, we've got something for you.
We hope to see you in a service very soon, because unlimited fun, fellowship, and victory are just a step away!
Kindle The Flame
Lynette Hagin's Women's Conference
Find Out More
A Call to Arms
Kenneth W. Hagin's Men's Conference
Find Out More
---

Stay close to a faith filled atmosphere and listen to faith building messages from God's Word at your convenience!
Get the Rhema APP
---
Address
8921 Northwest Expy,
Oklahoma City, OK 73162
Mailing Address
P.O. Box 721790,
Oklahoma City, OK 73172